---
Located in New York City, the world's first and foremost vertical metropolis, The Skyscraper Museum celebrates the City's rich architectural heritage and examines the historical forces and individuals that have shaped its successive skylines. Through exhibitions, programs and publications, the Museum explores tall buildings as objects of design, products of technology, sites of construction, investments in real estate, and places of work and residence. For a description of the gallery and for photos of the space, please visit our Photo Slideshows page.
The Skyscraper Museum is located in lower Manhattan's Battery Park City at 39 Battery Place. Museum hours are 12-6 PM, Wednesday-Sunday.
General admission is $5, $2.50 for students and seniors. Click here for directions to the Museum. All galleries and facilities are wheelchair accessible.


CURRENT EXHIBITION

TEN & TALLER, 1874-1900
Through April 2017
TEN & TALLER focuses on New York's earliest "skyscrapers," surveying every building in Manhattan of ten or more stories – 250 in all – from the all-masonry "skyscrapers" of the mid-1870s to the standardized steel skeletons at the turn of the twentieth century. The exhibition maps and graphs their location, uses, and heights, tracing an urban development of the city's commercial expansion and vertical rise.
---
UPCOMING PROGRAMS
Wednesday, April 5, 2016 3:00 pm

Curator's Tour
Director and curator Carol Willis will lead a curator's tour of the museum's new exhibition TEN & TALLER. Curators tours are free with admission. No RSVP required.
Tuesday, April 18, 2017 6:30-8:00 pm

John Freeman Gill Book Talk
The Gargoyle Hunters

Penguin Random House, 2017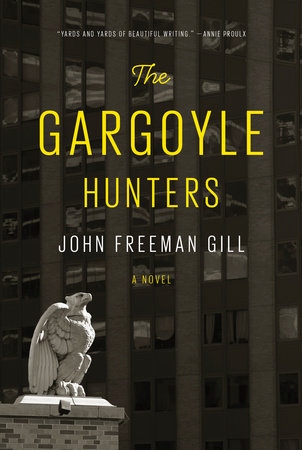 Join us as John Freeman Gill discusses his debut novel The Gargoyle Hunters. Hilarious and poignant, the book is a love letter to a vanishing city and a deeply emotional story of fathers and sons. Intimately portraying New York's relationship with time, the novel presents the mystery of a brazen and seemingly impossible architectural heist— the theft of an entire historic Manhattan building. Through the voice of thirteen-year-old Griffin Watts, Gill implores readers to look at New York with a new perspective. The Washington Post writes, "After a few chapters with Watts, it's impossible not to turn your gaze toward the sky. You'll never look at the Woolworth Building the same way again."
John Freeman Gill is a long time New York Times contributor as well as the architecture and real estate editor of Avenue magazine. His work has also appeared in The Atlantic, The New York Times Magazine, The New York Observer, The Washington Monthly, The International Herald Tribune, the website of New York magazine, Premiere, the New York Times op-ed page, and The New York Times Book Review.
Reservations are required, and priority is given to Members and Corporate Member firms and their employees. All guests MUST RSVP to programs@skyscraper.org to assure admittance to the event. Not a member? Become a Museum member today!

---
Click here for more upcoming programs.
---
UPCOMING FAMILY PROGRAMS
GUMDROP TOWERS
April 8
10:30- 11:45
How do buildings stand tall? Learn about the different techniques used to brace buildings against the elements. Afterwards, kids will build their own structurally stable towers using gumdrops and toothpicks. Ages 4+. RSVP required.
Click here for more upcoming Family Programs
---
A 3-D CBD: How the 1916 Zoning Law
Shaped Manhattan's Central Business Districts
1939-40 NYC Department of Finance tax lot photographs of the Garment District, showing the distinctive setbacks created by the 1916 zoning law. From left to right: 345-351 W. 35th Street; 347-351 W. 36th Street; 247-255 W. 38th Street.
​
This essay, published online on July 25, 2016, to mark the precise centennial of the passage of the New York City Zoning Resolution on July 25th, 1916, is a revised and updated version of a 1991 conference paper and subsequent chapter of a 1993 book,
Planning and Zoning New York City: Yesterday, Today, and Tomorrow.
Organized by the New York City Department of City Planning, the conference celebrated the 75th anniversary of the zoning law with a symposium on the history and future of planning in New York City.
Read the final report here
Click here to read the essay
---
​
​The Skyscraper Museum has created a new web project that explains an emerging form in skyscraper history that has evolved in New York over the past decade:  the super-slender, ultra luxury residential tower
. These pencil-thin periscopes — all 50 to 90+ stories — use a development and design strategy of slenderness to pile their city-regulated maximum square feet of floor area (FAR) as high in the sky to as possible to create luxury apartments defined by spectacular views.
Click here to view NEW YORK'S SUPER-SLENDERS
---
JOIN OR MAKE A DONATION TO THE SKYSCRAPER MUSEUM
The Museum is a participating member of the Downtown Culture Pass.