---
Located in New York City, the world's first and foremost vertical metropolis, The Skyscraper Museum celebrates the City's rich architectural heritage and examines the historical forces and individuals that have shaped its successive skylines. Through exhibitions, programs and publications, the Museum explores tall buildings as objects of design, products of technology, sites of construction, investments in real estate, and places of work and residence. For a description of the gallery and for photos of the space, please visit our Photo Slideshows page.
The Skyscraper Museum is located in lower Manhattan's Battery Park City at 39 Battery Place. Museum hours are 12-6 PM, Wednesday-Sunday.
General admission is $5, $2.50 for students and seniors, children under 12 are free. Free for members of the military, police, fire departments, and veterans. Click here for directions to the Museum. All galleries and facilities are wheelchair accessible.


SKYSCRAPER GALLERIES


The Skyscraper Museum's core exhibits trace the history of high-rise construction with models, videos, and infographics. Displays include a 40-foot long mural on the History of Height from the pyramids to the present, highlighting themes and buildings that relate to the evolution of the skyscraper and point the way to 21st-century supertalls. A special section devoted to the World Trade Center examines its creation as an urban renewal project in the 1960s and documents the rebuilding after 9/11. Case studies also feature the history of construction and models and graphics of the tallest skyscrapers internationally.
CURRENT EXHIBITION
Through June 24, 2018
The last decade of the twentieth century in New York City was not a simple time. The end of one millennium – a thousand-year marker – and the beginning of the 2000s prompted both anxiety and optimism, reflecting on what to hold onto from the past and how to move into the future.

No place in mid-1990s was more conflicted about these prospects or more ripe for reinvention than lower Manhattan, especially the historic Financial District. Wall Street was losing banks to mergers and relocations. Grand skyscrapers of the 1910s and '20s were becoming technologically obsolete and sliding down market. The lasting effect of the 1987 stock market crash, followed by the savings-and-loan scandals, caused a real estate recession that hit Downtown harder than other districts. Vacancy rates for office buildings topped 28 percent. New thinking and policies were necessary.

Preservation and reinvention were twin themes of the Downtown discussion. Landmarking and converting older office buildings to residential and other uses were strategies of economic development. Celebrating the district's rich history and creating a culture for tourism was another initiative, led by Heritage Trails New York. Twenty years ago, the nascent Skyscraper Museum used the real estate recession to find free space for its first pop-up exhibitions in grand vacant banking halls at 44 Wall Street and at 14 Wall. MILLENNIUM revisits this recent history of lower Manhattan in the years just before Downtown's identity was recast as Ground Zero.




Skyscraper Museum sign on 14 Wall Street at the corner of Broad Street, home to a temporary exhibit 1999.
Read the review of MILLENNIUM in Architect's Newspaper and The New York Times.
MILLENNIUM is presented with the generous support of the J.M. Kaplan Fund.

View the PRESS RELEASE
---
UPCOMING PROGRAMS
Wednesday, April 25, 2018 3:00 pm

Curator's Tour
Skyscraper Museum Director and curator Carol Willis will lead a tour of the museum's new exhibition MILLENNIUM, Lower Manhattan in the 1990s.
Curators tours are free with admission. No RSVP required.

---
SKYSCRAPER SEMINAR
Tuesday, April 24, 2018 6:30-8:00 pm

Jae In Choi and Stephen DeSimone
125 Greenwich Street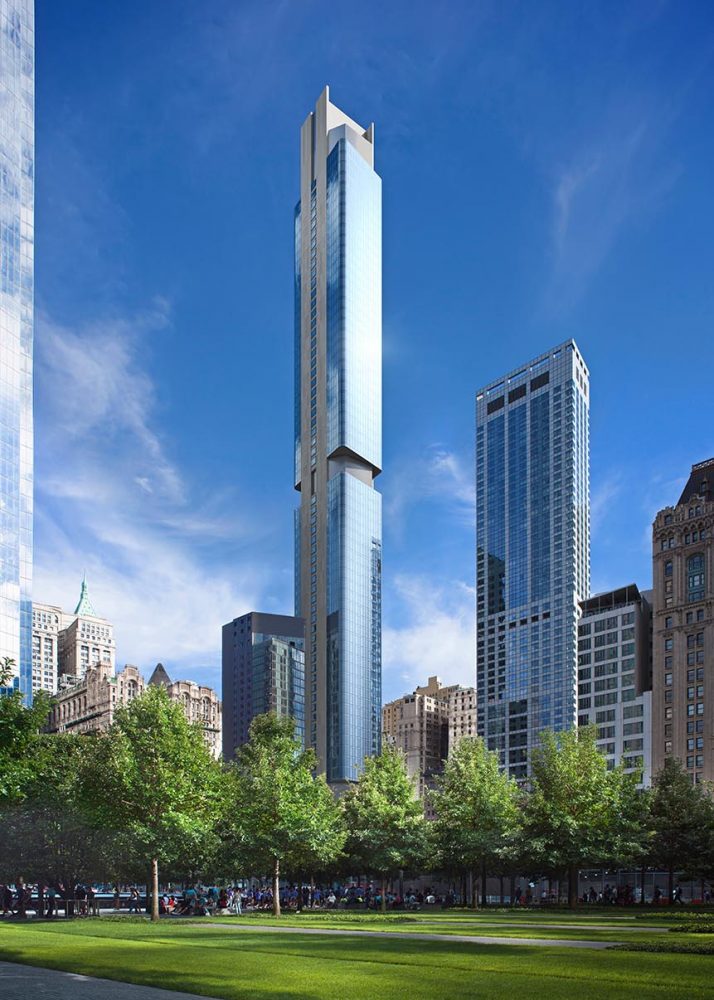 The one constant in the evolution of the design of the 912-foot tall, super-slender condominium at 125 Greenwich Street, just south of the World Trade Center site in lower Manhattan, is its postage-stamp site, barely 83' x 119 ft. After several early schemes, which ranged in height from 1,100 to nearly 1,400 ft., the tower now under construction will top out at 912 ft./ 278 meters. Offering insights into their strategies of design and structural engineering of the skyscraper are Jae In Choi, the project architect from Rafael Vinoly Architects, and structural engineer Stephen DeSimone of DeSimone Consulting Engineers.

In the changing market for luxury units and the evolving Downtown demographics, the developer's continuing analysis led to a rethinking of the mix of apartments and placement of amenity floors and, thus, a revised structural approach and expression in the tower's form. Choi and DeSimone will detail how the current design answers the challenges of mixed floor plans, maximized views, and wind engineering, among other issues.

125 Greenwich Street is being developed by Bizzi & Partners, a global real estate firm with offices in Milan, New York, San Paolo and Tallinn. In addition to Rafael Vinoly Architects and DeSimone Consulting Engineers, consultants to the project include Reginald D. Hough Associates, Cosentini Associates, and Robert Schwartz & Associates.

Join the speakers for another program in the Museum's continuing series of Skyscraper Seminars, exploring subjects of theory and practice for design professionals.
Jae In Choi, AIA, NCARB is a Project Manager at Rafael Vinoly Architects, where is managing 125 Greenwich Street. He has worked at RVA since 2010, where he has been the Project Manager for 432 Park Avenue, among other buildings.

DeSimone Consulting Engineers was established in New York in 1969. Stephen V. DeSimone joined the firm in 1988 and is now President and CEO. In addition to the specialty of super-slender towers in Manhattan that DeSimone has designed, including 220 Central Park South, 50 West Street, 111 Murray, and 45 E. 22 Street, the firm works on a wide range of building types nationally and internationally.
Tower rendering: &copy March
Reservations are required, and priority is given to Members and Corporate Member firms and their employees.
All guests MUST RSVP to programs@skyscraper.org to assure admittance to the event. Not a member? Become a Museum member today!
---
Click here for more upcoming programs.
---
UPCOMING FAMILY PROGRAMS
TRASH TOWERS
April 28, 2018
10:30-11:45 AM
People recycle bottles, paper, and clothing all the time. But did you know that buildings are recycled too? Come learn how builders reduce waste by reusing materials from older buildings to create new ones. Kids will make their own "Trash Towers" from recycled materials that they can tear down and rebuild over and over again. Ages 5+.
---
Click here for more upcoming Family Programs
---
HERITAGE TRAILS NEW YORK
A New Web Project from The Skyscraper Museum
A Digital Reconstruction of Heritage Trails New York, a new interactive web project and digital archive created by The Skyscraper Museum, revives a landmark public history project focused on lower Manhattan of the mid-1990s. Heritage Trails – a series of four follow-the-dots walking tours punctuated by 40 site markers – covered the area from the Battery to the African Burial Ground and Foley Square, and from the Hudson River to South Street Seaport. The trails linked and illuminated Downtown's deep history, from discoveries of remnants of the colonial city by urban archeologists to stories of the great skyscrapers and the creation of the canyon of Wall Street. ENTER HERITAGE TRAILS NEW YORK
​
​The Skyscraper Museum has created a new web project that explains an emerging form in skyscraper history that has evolved in New York over the past decade:  the super-slender, ultra luxury residential tower
. These pencil-thin periscopes — all 50 to 90+ stories — use a development and design strategy of slenderness to pile their city-regulated maximum square feet of floor area (FAR) as high in the sky to as possible to create luxury apartments defined by spectacular views.
Click here to view NEW YORK'S SUPER-SLENDERS
---
TEN & TALLER, an
interactive web project
, explores the rise of New York's skyscrapers by surveying every building in Manhattan ten stories or taller from the first ones in 1874 through 1900. The Skyscraper Museum collected images and mapped all the 252 buildings, as well as created a timeline of dates of construction. These interactive interfaces allow viewers to see and explore the buildings in innumerable ways. The web projects were launched in conjunction with the Museum's 2016 exhibition TEN & TALLER: Manhattan 1874 - 1900 which is
documented in full here
.
---
A 3-D CBD: How the 1916 Zoning Law
Shaped Manhattan's Central Business Districts
1939-40 NYC Department of Finance tax lot photographs of the Garment District, showing the distinctive setbacks created by the 1916 zoning law. From left to right: 345-351 W. 35th Street; 347-351 W. 36th Street; 247-255 W. 38th Street.
​
This essay, published online on July 25, 2016, to mark the precise centennial of the passage of the New York City Zoning Resolution on July 25th, 1916, is a revised and updated version of a 1991 conference paper and subsequent chapter of a 1993 book,
Planning and Zoning New York City: Yesterday, Today, and Tomorrow.
Organized by the New York City Department of City Planning, the conference celebrated the 75th anniversary of the zoning law with a symposium on the history and future of planning in New York City.
Read the final report here
Click here to read the essay
---
HILARY BALLON
On June 16, 2017, we lost a dear friend and extraordinary colleague,
Hilary Ballon. Please click here for a remembrance.
---
JOIN OR MAKE A DONATION TO THE SKYSCRAPER MUSEUM
The Museum is a participating member of the Downtown Culture Pass.